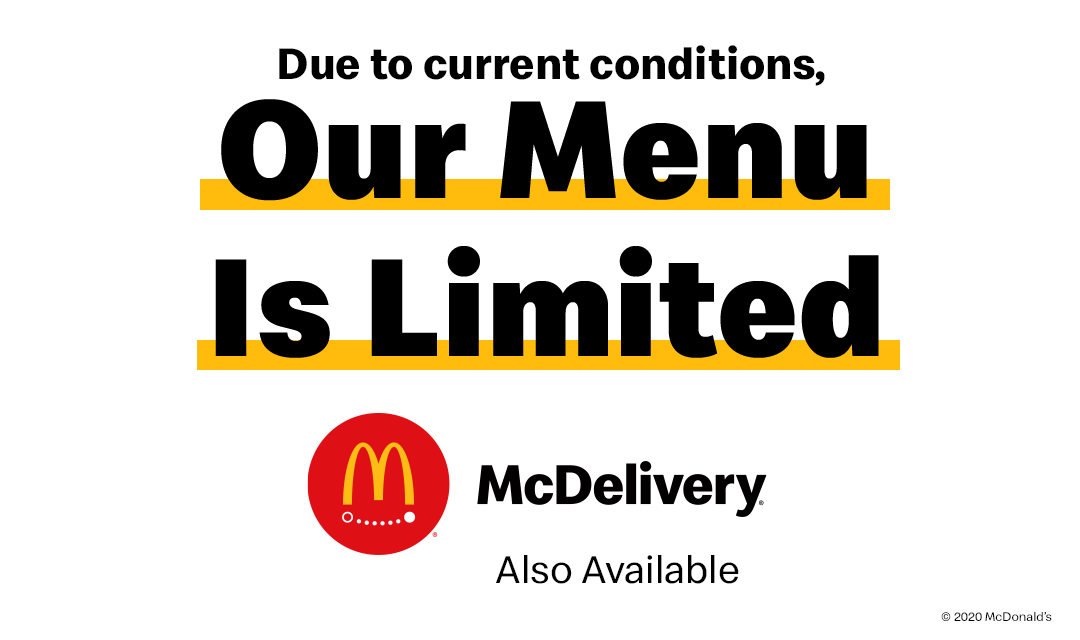 COVID-19 Update
Due to current conditions, we have temporarily implemented a limited menu. We are doing this in order to ensure the safety of our employees and to better serve you. McDonald's is going above and beyond to ensure all locations have the time they need to keep the safety of everyone as our top priority. We appreciate your cooperation during this time and we are grateful we can continue to serve you with our brand that you know and trust. 


For a Limited Time!
One for you, one for them—you could score some serious friend points.
Choose from a Big Mac, Quarter Pounder with Cheese, Filet-O-Fish, or 10 piece
Chicken McNugget and get one for $1! 
Teacher Appreciation Week!
For your unwavering dedication to our community and our children.. Teachers, we thank you!
Swing by and grab a FREE Bakery Item with any purchase anytime from May 3rd – 7th.
*Offer valid with your School ID

Chillingly Delicious! 
Cool down with a Minute Maid Slushie today!
Choose from Blue Raspberry, Pink Lemonade, or Strawberry Watermelon!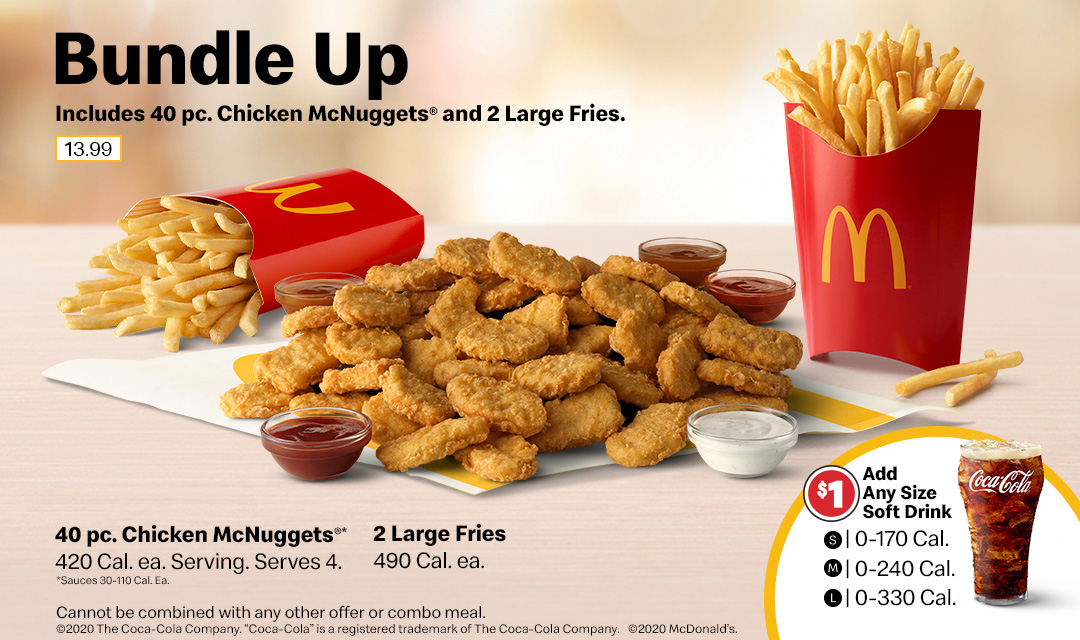 McNugget Bundle
Includes 40 piece Chicken McNuggets and 2 Large French Fries for just $13.99. 
Try our new Crispy Chicken Sandwiches!
Pick from a regular Crispy, Spicy, or Deluxe Chicken Sandwich! 
CHICKEN FOR BREAKFAST!
Love our new Crispy Chicken Sandwiches?
Grab the same kind of deliciousness for breakfast! Starting on March 29th, you can get
a Crispy Chicken McMuffin and a Crispy Chicken Biscuit to start your day! 
NOW AVAILABLE!   

 Try our new Caramel Brownie McFlurry!
We're LOVIN it! 
For a limited time!
2 for $2 Mix & Match Breakfast Deal! 
Choose from a Sausage McMuffin, Sausage Biscuit, Sausage Burrito, or any size coffee.
FOR A LIMITED TIME!

Strawberries & Créme Pie! Grab this delightful pie with a hot McCafé Coffee!
NEW HAPPY MEAL TOYS!

Take home a Disney's Princess toy or Star Wars toy every time you purchase a Happy Meal!
 Download our App!
Looking for more deals? Download the McDonald's App for iOS and Android! 
With this, you'll have access to Curbside Pickup, Contactless Mobile Order & Pay, Rewards catered to 
your favorites, exclusive deals and more!