We're proud to serve you
We believe that our people are the foundation of everything we do, we take great pride in the people we call family, & as a member of our team, you are family.
"I joined SFM 7 years ago (from a competitor) to work with a company that appreciates and cares about their employees."
–Zach Luckenbill
General Manager – Huber Heights Merily Way
"I started with McDonald's 19 years ago at 16 years old, my plan was to go to school for nursing but went into management at 17 instead!"
– Jess Carpenter
General Manager – Huber Heights Brandt Pike
"Mcdonald's started out as a job until I found my career path. Now, this career supports my beautiful family of 5!"
–Warren Davidson
General manager – Greenville North
"I started as a crew member all the way back in 1976! I joined the Scott Family Team in 2004 and love what I do. Every day is different!"
–Ken Roosa
Director of Operations
Let's talk about benefits
We offer the BEST benefits in the business because we care about you. Benefits begin after 30 days of employment unless stated otherwise.
Flexible Schedule
~ Work when you want
~ Set up your schedule yourself
~ Change your availability whenever you need to (Pay rate may change based on availability)
~ Need a shift covered? We have a cool app for that!
Food Discount
~ Free Meal during each shift (On your break)
~ 50% off of up to $25 a day for you & your family.
~ 30% off your food order at all other McDonald's with the Mobile Order & Pay App!
College Assistance: Archways to Opportunity
~ $2500-$3000 per year towards College Tuition
~ Earn your High School Diploma
~ Go to college for FREE at Colorado Tech online! Books and computer paid for!!
Insurance
~ Health, Dental, and Vision Insurance for you and your family available. The packet can be found in your orientation folder.
~ Must sign up within 30 days of your start date!
Pet Insurance
Available after 30 days of employment.
Choose what plan works for you!
90%, 70%, or 50% coverage
McDPerks
~ Discounts on monthly phone bills, movie tickets, electronics & more!
~ Coupons for all your favorite household & grocery items!
~ Discounted Rent a Car services, hotels and so much more!
Paid for Good Grades
Every semester, you can earn an additional $75 just for submitting your grade card showing an 85% average or higher!
Paid Time Off
~ Start Earning Paid Time off after one year of employment.
~ Holiday weekends provide the potential to earn Paid Time Off right away!
New & improved
referral bonus
>>>>>
Crew Referral
Refer a new crew member & be entered into a drawing for $500! You get another entry when they are hired!
After 30 days, you receive a $25 visa gift card, plus another entry for the $500!
After 90 days, you receive a $75 Visa Gift Card, plus another entry into the $500 drawing!
<<<<<
Manager Referral
Refer a Swing Manager or above & you can get up to $1600
Upon being hired, you get $100! After 90 days, you get $750 and after 6 months, you get another $750!
The Crew Rooms have had a recent makeover, and they are all yours!
Use this space to enjoy your meals during your break or take a minute to relax.
Do your part to keep the crew rooms tidy. Clean up after yourselves!
No cups with straws and lids should be left in the crew rooms.
Only bottles with permanent lids are permitted to be left in the room
during your shift.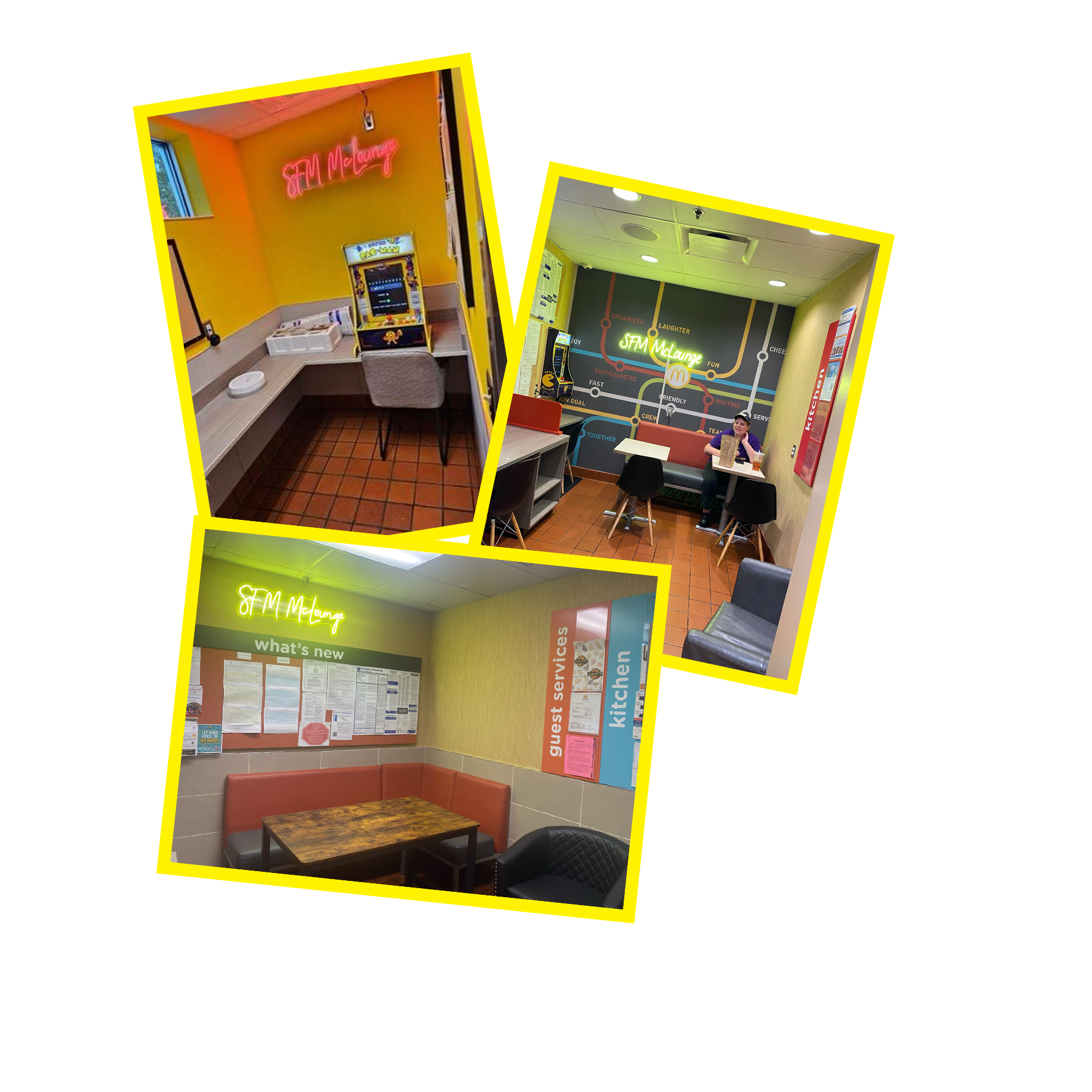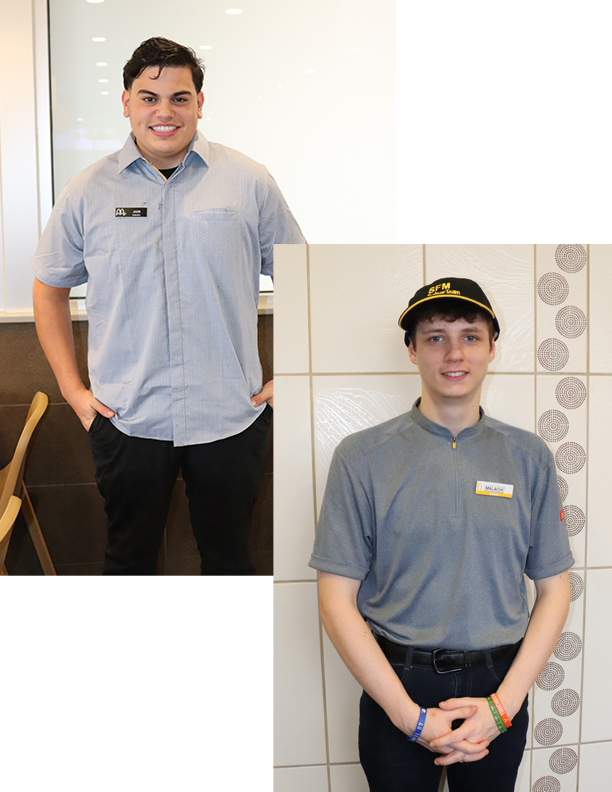 ~ Hat or Visor
~ Name Tag
~ Clean Uniform
~ Black non-slip Shoes
~ Hygiene and Grooming
~ SMILE/ENERGY
Lets have a conversation…
What does fast food mean to you?
We are FAST
Peak Times:
7 am to 9 am
11 am to 2 pm
5 pm to 7 pm
As a team, we will support you in your training, you will become faster with practice. As the goals we set for ourselves are not easy, as a team they can be achieved!