What would you do if you knew you couldn't fail?
That question has been stirring in my mind since I heard it a while back during a Peloton workout (thank you Jess Sims). Would you take more chances? Be more intentional? Think about that. How would this affect your work life? Home life? Recreational life? Something to definitely ponder.
With August almost over, most of you are sending kiddo's back to school, or finally getting back to that much needed routine. For a lot of us (okay, me) FOOTBALL IS FINALLY BACK!!  The company meeting is behind us (those Stanley cups are A.M.A.Z.I.N.G), and we are focused on making our crew rooms gorgeous.
August is also Wellness Month. So do it with me… breathe in for 5 seconds…. breathe out…remember to take time for you. Wellness means a lot of things, but the overall message is to take a breath. Make yourself a priority. Your supervisors and leadership team can't do what we do without a healthy Y.O.U! We dug into our insurance and found that one of the ways to help you with this is through Sword. This is essentially physical therapy at home. They will send you everything you need, and all coaching/care is done virtually. Jo (Schmiesing) has used it in the past and has said great things about it. I'm sure she would love to help you if you have questions.
We here at SFM love celebrating all the great things our employees are doing! Please check out the McNuggets section on how many years the "McMartin's" (Tory just celebrated a milestone) have been with SFM.
Looking for a great read to become a better manager, or employee? Emotional Intelligence, 2.0, Harness the Power of the #1 Predictor of Success, by Dr. Travis Bradberry and Dr. Jean Greaves is one of the best books I have ever read. There is a talent assessment that comes with the book and once you receive your results, there is an action plan. Do yourself a favor and download it on Audible or get a copy (you have to order a new book in order to receive the talent assess code). You won't be sorry.
Finally, August is also National 401K month. Are you taking advantage of all the great benefits a 401K has to offer? Open enrollment is coming up in October. More information will be forthcoming.
So, I ask you again… what would you do if you knew you couldn't fail? Shoot for the stars?? Leave no regrets!!
Get out and slay the day- YOU are WORTH IT!
Cindy Frantz
Recruitment/Community Relations
Trying to start and stay on a fitness routine is hard.. but if you do have trouble sticking to it, we have an app for you! FitOn has HIIT, strength, yoga, Pilates workouts, and more all in one place, and its motivational workout plans, calendar reminders, and social features make you want to use it every day. The app offers a variety of prerecorded exercise classes —including strength training, yoga, Pilates, and HIIT—that range from 5 minutes to one hour. It also has meditation, stretching, and mobility options for warm-ups, cool-downs, and self care. Like with most workout apps, you can filter by intensity level and target area.
You can also select from FitOn's challenges and courses, such as "10-Day Kickstarter" or "Ultimate 30-Day HIIT," which group similar classes together for multiple weeks to keep you motivated and working toward a goal. 
A basic version of FitOn is available for completely free, but to access the app's premium features you'll need a subscription. You get unlimited workouts with the free version, but much more with a FitOn Pro membership. The good news is that it's only $30 for an annual subscription! 
Most classes require no or minimal equipment, making it a great option for anyone who doesn't have an extensive home gym setup. Some classes call for weights or bands, some require nothing at all! The monthly challenges they offer are a great way to stay motivated and actually make you look forward to using the app everyday! 
The Martin Family has dedicated over 91 years with us as a family! Supervisor Denise has been with us for 29 years, Tory – 25 years, Chrissy – 17 years, Kelly – 14 years, and Kimmy for 6 years! We talked to Denise about how awesome it's been working with her family! 
What is it like working with your family?
As you can see, I have worked with my entire family over the years. All the girls started as teenagers to make money to get cars, pay for gas or to pay for things they were interested in doing. I will admit I was always harder on my girls before I was another employee. They were all great at what they did for us here at McDonald's but as a parent it was more that they learned responsibilities and worked hard for what they wanted. All the girls worked summers through college to have money when they went back to get through the semester.
What roles have your family had at SFM?
Tory started as a closer and then started doing the order for the store before moving into maintenance. Chrissy started as Crew and was a Shift Leader upon her leaving. Kimmy was a Trainer, and Kelly is the current Payroll Specialist in the Office! At times when we were all at the South location it was known to many as McMartin's, instead of McDonald's.
What do you like to do as a family?
We are a sports family since all the girls were in one or more things in school.  Now football season is the big one with all being Ohio State and Bengals fans.  We are dealing with our son-in-law being a Browns fan!  At least he is an OSU fan. As a family when all the kids are in town I like to have dinner at the house and then we catch up around a fire in the back yard.
We all know that running a store isn't easy. The fast-pace environment alone can stress people out – and then the computers go down… or the fryers (HI SIDNEY), or you are faced with 4 people calling off work. At this point, you just want to scream – either at the world or at someone. When trying to control our emotions or dealing with stressful situations, we have to first start within ourselves to hold it together.
This book, Emotional Intelligence 2.0 by Travis Bradberry and Jean Greaves explains how to deal with emotions creatively and employ our intelligence in a beneficial way. Emotional Intelligence 2.0 delivers a step-by-step guide for increasing your emotional intelligence using the four core EQ skills – self-awareness, self-management, social awareness, and relationship management-to exceed your goals and achieve your fullest potential.
Take control of your emotions and learn how to manage hard situationsin the best way you know how! This book is guaranteed to help you find those strengths within yourself. 
With only 70% of Americans financially prepared for retirement, understanding what you can do to make the dream of retirement a reality is important. It is estimated that 79% of Americans work for a company that offers a 401(k) plan; however, only 41% take advantage of the benefit.
Guys, we offer a 401(k) plan AND Benny matches it up to 4%! If you aren't taking advantage of this and working towards your retirement, you NEED to! 
Contributions to a 401(k) are taken directly out of your paycheck before federal income taxes are withheld. Because the contributions are pre-tax, it lowers your total taxable income which means you might owe less in income taxes. You can contribute as much or as little as you want to your account, and even if you change jobs, the money you've contributed to your 401(k) and its earnings belong to you! 
If you are ready to start saving for your future, get in touch with Rob at the office and he will help you get set up. You can also visit www.empower.com to learn more!
The earlier you start investing, the more time your money has to grow! Start today!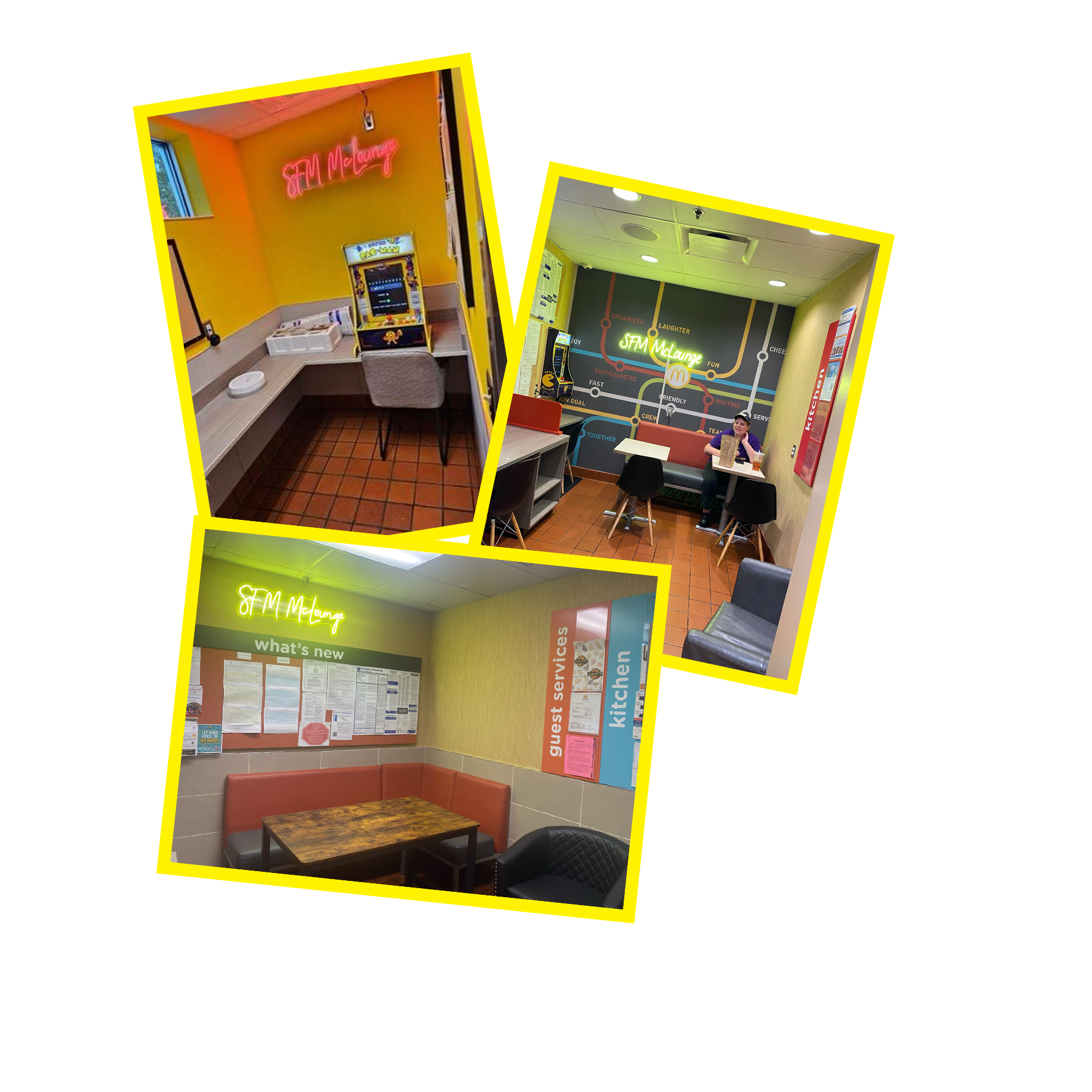 Jo has been hard at work getting your crew rooms reimagined into a space that you and your crew will WANT to hang out! 
The crew rooms are important. Your employees should have a space that they can sit and relax during their breaks, away from the hustle and bustle of customers. A place wher they can also enjoy an arcade game – PAC-MAN! How fun!
So, folks, take pride in these new rooms that are being created for you! Keep them tidy for your crew, have an ongoing Pac-Man competition! We encourage you to make this fun for your people! 
Benefits you're missing out on!
If you need to overcome back, joint or muscle pain, this program is for you. It's an $800 value that is completely FREE for you with our health insurance! Our very own Jo has been using this program and only has GREAT things to say about it!
Your kit arrives at your doorstep and includes motion trackers, a Digital Therapist tablet and virtual support at any time. The program tracks your progress and corrects your form in real time. It guages your pain and fatigue and the streches or exercises only take 10 minutes! 
The kit is portable enough to take with you, so you don't ever have to miss a session. All you need is wifi! 
If you are tired of living with chronic pain and are ready to live happier and healthier, try this out! 
digital phsycial therapy program
GREENVILLE
April Kissinger
Becky Swisher
 

BELLEFONTAINE

Cindy Werts
Bobby Ostendorf-Kloeker
MERILY WAY
Karen Pennybacker
Makenzie Nangle
PIQUA
Blessing Angle
Michelle Clark
BROAD ST.
Cam Myers
Jodi Williams
Erik Keith – 10 years with SFM
Tory Martin – 25 years with SFM
Sidney Mercer – 15 years with SFM
Outstanding Shift Leaders!
Kandi, Daisha, Bobby, Kyle, Emma & April!
Creamy Spinach Turkey Meatballs
 Ingredients
1/2 lb ground turkey meat
1/2 lb ground chicken meat
1/2 cup shredded mozzarella
4 cloves garlic – minced, 4 cloves – grated
1 tsp Italian seasoning
1/2 tsp red crushed chili pepper flakes
1 crumbled bouillon cube
salt & pepper
1 cup fresh chopped cilantro or parsley
2 tsp olive oil
2 tbsp butter
1 small yellow onion, diced
1/3 cup vegetable broth
5 ounces sun-dried tomato in oil, drained
1 3/4 cup heavy cream
3 cups baby spinach
1/2 cup grated parmesan cheese
Directions



1. In a large bowl, combine ground turkey and ground chicken, cheese, grated garlic, Italian seasoning, bouillon cube, red chili pepper flakes, chopped cilantro, and black pepper. Mix well with your hands or fork and form medium balls. Arrange the turkey meatballs on a plate and set them aside.
2. Melt 2 tablespoons butter in a large skillet over medium-low heat. Cook the turkey meatballs for 8 – 10 minutes on all sides until browned and cooked through. Remove to a clean plate and set aside.
3. In the same pan, melt the butter in the remaining cooking juices. Add in the garlic and fry until fragrant (about one minute). Add onion and stir fry until translucent. Add the sun-dried tomatoes and fry for 1-2 minutes, so they release their flavors. Finally, pour in the vegetable broth, and allow the sauce to reduce slightly.
4. Reduce heat to low, add in the heavy cream, and bring to a gentle simmer while stirring occasionally. Season the cream sauce with salt and pepper to taste.
5. Add in the baby spinach and allow to wilt in the sauce. Finally, add in the parmesan cheese. Allow cream sauce to simmer for a further minute until the cheese melts through.
6. Add the cooked turkey meatballs back into the pan; sprinkle with the parsley, and spoon the sauce over each meatball. Enjoy! 
Are you Ready to Further your Education?
Archways to Opportunities gives you all of the resources you need to begin or continue your college education! 
Archways To Opportunity
McDonald's and its independent franchisees are committed to helping employees further their education and achieve their dreams.
To help individuals who work at a company-owned or independently franchised restaurant, we created Archways to Opportunity, a comprehensive education strategy with multiple programs that give people an opportunity to grow and learn – no matter where they are on their journey.
How do I earn my High School Diploma?
You can graduate from high school by taking classes online – whenever and wherever it's convenient for you – through Career Online High School. And, you may be able to apply credits from high school courses you've already completed.
How do I choose an affordable path to college?
If you are ready to get started working toward your college degree, Archways to Opportunity® offers programs to help make your goals a reality – in a way that fits your lifestyle.
Our programs can help you explore educational opportunities while getting financial support to make your educational journey easier.
How do I figure out the right path for me?
Figuring out the next step in your education and career journey may feel like a lot. Bright Horizons EdAssist Solutions has Success Coaches who are available to help you identify your education needs, review your career goals and develop a plan for the future. Your coach will continue to support you throughout your experience to ensure that you successfully achieve your goals and complete your program.
How do I improve my English?
We want you to feel confident in all that you do. If you are bilingual, this includes being comfortable talking in English. Whether you are speaking to customers or staff, your voice should be heard. English Under the Arches® can help.
With the support of English Under the Arches, you can improve your English speaking, listening, reading and writing skills.
How do I earn my degree for free through CTU?
The Commitment Grant, along with maximizing Archways to Opportunity tuition assistance, covers 100% of eligible students' online tuition, including eBooks and student fees, at CTU helping you to pursue your educational goals without the need for student loans.
Eligible students may utilize the Commitment Grant towards any Associate or Bachelor's degree program offered at CTU.
This is YOUR Newsletter, what do you want to see?
Send us your thoughts and we will incorporate them into future projects!
Or, just let us know how we're doing!