So… did you miss us?
It has been a hot minute since we had a newsletter- April to be exact! Just like you all, too many irons in the fire but… WE ARE BACK! And guess what? We're moving to an all digital format! So, let's get rockin' and rollin' into some good stuff to round out summer!

As I write this, it is July 4th and I am sitting on a plane to Florida (shocker I know). We want to hear about your summer festivities. Pictures please! Where are you going? What are you doing? Are you stay-cationing or traveling the world? Whatever it is send us pics for the next newsletter. We want to travel with you and enjoy the places we might someday want to visit.
The Biggest Loser GroupMe has been kinda quiet. We need ideas! I don't know about you, but accountability is something I need! Let's workout together, share ideas, and stay motivated! Summer is a great time to get outside and stay active, but (unfortunately) fall/winter is coming. Let's find a new challenge or accountability partner/group so we can cheer each other on. We discussed a Zoom meeting once or twice a month. Let me know your thoughts!
We've got information to share about some great resources that are available to you through United Way, our new 401k company and some health benefits that you more than likely unknowingly accomplish daily just by doing one of your favorite hobbies! That is, if you like gardening… 
This new digitized newsletter has all of the same awesome information as our previous printed ones – but even better! 
That's it (and enough) from me. Please send any newsletter ideas to Lindsay or me. We look forward to putting this together for you, but we can't do it without your input!
Get out and slay the day… YOU ARE WORTH IT!
Cindy Frantz
Recruitment/ Community Relations
The Health Benefits of Gardening
Though gardening might not sound fun for everyone, it is proven to be good for your well-being and your health. Gardening is more than just a hobby or fun past-time, it is an activity that is beneficial for you in many ways. 
Gardening lowers your stress levels.
It can help reduce symptoms of depression and anxiety by giving you a chance to focus on something and put your mind to work. In other words, it makes you happy. Getting dirt under your nails alone can boost your mood. In fact, there is a healthy bacteria that lives in soil that can increase levels of serotonin and reduce anxiety. 
Gardening can build your strength.
All of that digging, weeding and planting burns calories and strengthen your heart. You'll find yourself using every major muscle group in your body when you work in your garden. 
Growing your own food can help you eat healthier.
One benefit of gardening is that you can harvest a huge amount of vegetables that you know haven't been treated with pesticides. You can have fresh, organic vegetables and even fruits! 
Gardening is good for your bones.
Getting outside in the sunshine and working in your garden exposes you to more vitamin D, which increases your calcium levels! This vitamin D can help prevent your bones from getting brittle and weak. Just don't forget your sunscreen! 
Improve your self-esteem!
A benefit of gardening is that it's a natural and quick self-esteem booster. You plant your seeds, water, weed, and fertilize your garden, and watch it grow. As more plants start to grow, your self-esteem will also improve. It feels great to accomplish new tasks, and gardens give you endless opportunities to learn new skills. 
We said farewell to Rick Wendeln, our beloved Controller for the past 25 years! But we couldn't let him retire without telling us his plans!
What are your plans for retirement?
I plan to play some golf and softball, go boating and work out at the YMCA. I also want to do some traveling. 
What will you miss most about SFM?
I will miss the people and the feeling of accomplishment from the job.
What won't you miss about working?
The 8 to 5 daily grind and the drive to Piqua.
As we say our farewells to Rick, we are screaming WELCOME TO THE FAMILY to Rob! Rob joined our team a few months ago, working with Rick to learn the ins & outs of the position of Controller for SFM. 
Rob earned his Bachelor's degree in Business Administration with a minor in Accounting from the University of Toledo. In his spare time, he enjoys to tinker around in his woodshop – although I would hardly consider it tinkering! He's made plenty of beautiful pieces for his family – including a Hope Chest, a Lectern for his son who teaches 8th Grade Social Studies, and a 'Lazy-SHOE-zan' for his wife! 
The Greatest Salesman in the World is small but MIGHTY manual that teaches wisdom on how one should live life! In this short read (111 pages), Og Mandino will change your life and your way of thinking when it comes to finding yourself, and your true meaning on this earth! I highly recommend this book and think everyone should read it! 
Heart of a Leader is a 2-day personal development workshop brought to us by Brandon W. Johnson.  This Leadership training has high energy interactions at its core along with incredible group dynamics.  Participants come away from HOAL with renewed clarity of their personal & communal purpose as leaders (everyone is a leader!) with resources to draw from as they face real life challenges. Cindy, Erik, Adrianna & Terah recently completed this program where they got to embrace these lessons and learn more about their leadership skills!
Life changing reflection and learnings give each participant and each class the realization that "Energy is EVERYTHING!" 
Don't Settle For Less
Take Care of yourself & your health
We are in the process of updating our website to include a resource line for all employees. There are so many resources out there that are designed to help you – no matter how you need it! Please start talking this up with your employees. These are available for everyone, and best of all they're FREE!
988 Hotline
Modeled after 911, the new three-digit 988 Suicide & Crisis Lifeline is designed to be a memorable and quick number that connects people who are suicidal or in any other mental health crisis to a trained mental health professional. You can call or text the number anytime – and it's completely free. 
211 Hotline
The 211 Hotline is a resource that connects all human services to residents in all Ohio counties. It is open and available 24/7/365. Funded by the United Way, most calls or messages are from people looking for help meeting basic needs like housing, food, transportation, and health care. Since Benny and Stacy are huge advocates for the United Way (they match dollar for dollar all donations given) I cannot think of a better way to promote this resource!
BrightView
BrightView offers patients a chance to recover in a place where they are welcomed, encouraged, and respected. We believe anyone can achieve the goal of life-long recovery with the help of our outpatient addiction treatment programs. BrightView offers a better approach to addiction treatment, designed to fit your life.
SHRIMP SPRING ROLLS
The BEST thing about these spring rolls is that you can put whatever
you want inside! Here is one of my favorite recipes: 
Ingredients
1 lb large shrimp – peeled & deveined
3 oz Vermicelli Rice Noodles
Lettuce of any kind – I like spinach!
2 carrots – peeled and julienned
1/2 English Cucumber – julienned
1 cup cilantro (optional)
15 Round Rice Paper sheets
Directions
Boil or sauteed shrimp until thouroughly cooked and pink
Cook noodles according to package instructions
Julienne the cucumbers and carrots
Soak your spring roll wrapper one at a time in warm water until softened and place on flat surface
Assemble lettuce, veggies and shrimp onto damp spring roll
Tightly roll at one end and tuck in the sides until it is all rolled up
Serve with Sweet Chili Sauce or Vietnamese Peanut Sauce!
SUMMER VACATION
As summer is hitting its peak and you are ready to hit the road to enjoy a nice vacation, I know you might take pause because traveling is EXPENSIVE. But there are so many affordable getaways right here in our backyard! 
Send us photos of your summer trips!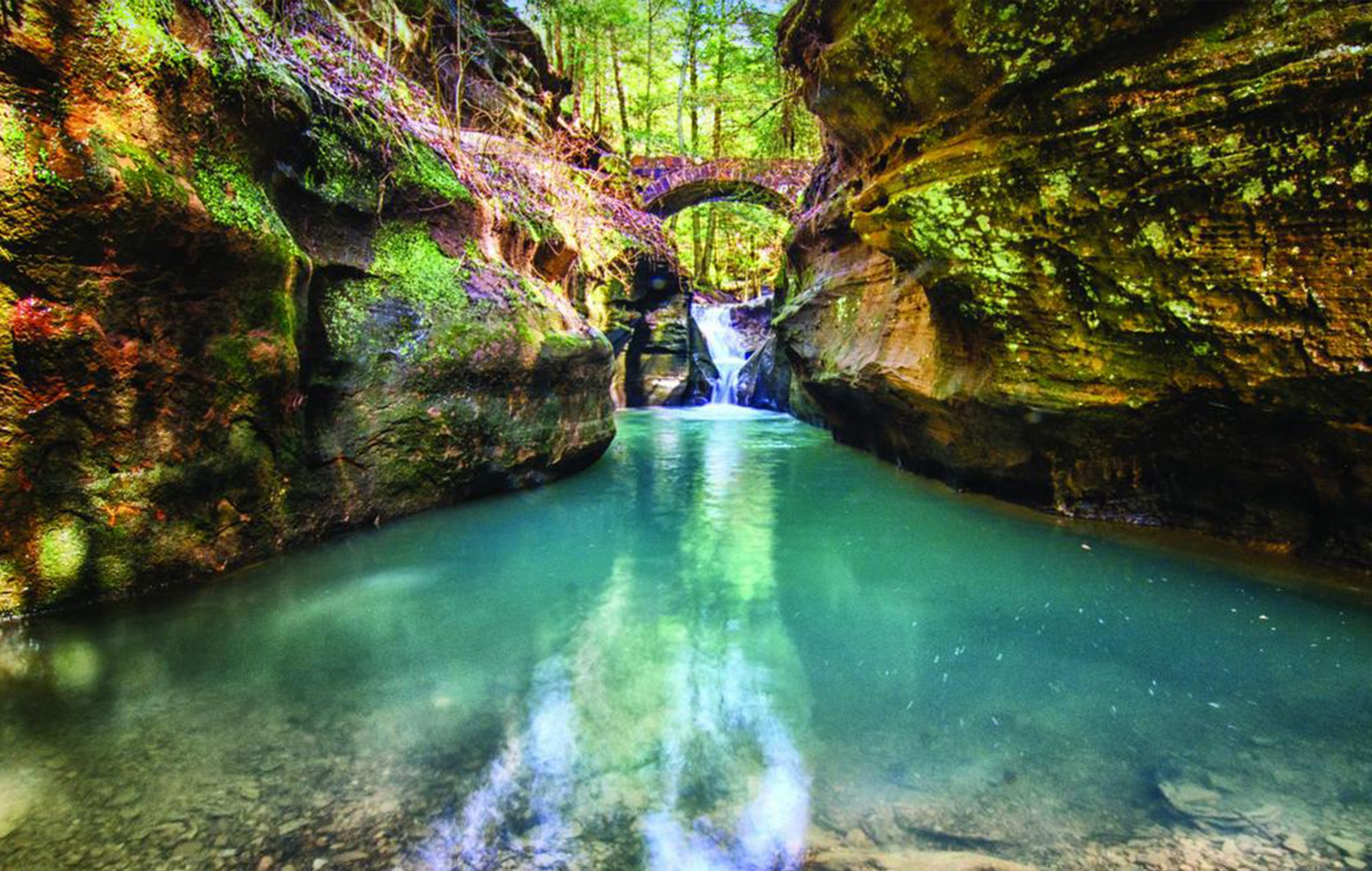 Hocking Hills State Park
Logan, Ohio
Discover the 7 different hiking areas with one-way trail systems, cabin and cottage rentals throughout the year that include all the amenities you need – including a hot tub! Camp in your RV, tents, with groups or in a primitive setting, or enjoy one of many daily programs that the park has to offer!
Cedar Point
Sandusky, Ohio
It's home to 70 amazing rides,  live shows, immersive dining and signature summer events.  The amusement park has a little bit of something for every thrill-seeker. And summer splashes are right next door at the Cedar Point Shores Waterpark with its multiple water gadgets, pools for little ones and slides for the whole family.
Put-In-Bay
South Bass Island, Ohio
Often called the "Key West of the North," Put-in-Bay features a lively entertainment scene, historic sites, and breathtaking water views. Off the shores of Lake Erie on South Bass Island lies Put-in-Bay, a quaint Ohio village accessible by the Put-In-Bay Ferry!  Whether you love traveling to the island every year or you're a first-time visitor, there's something for everyone to enjoy in PIB.
The Wilds
Cumberland, Ohio
The Wilds is a private, non-profit safari park and conservation center spanning over 14 square miles that combines conservation science and education programs. The park also offers visitors leisure activities such as ziplining, horseback riding, and fishing.
Company Meeting
Miami Valley Centre Mall, Piqua, OH. Time to be determined.
*for managers only
Labor Day
Take pride in the work that you do for SFM and know that WE APPRECIATE YOU!
Blood Drive
Miami Valley Centre Mall Parking Lot, Piqua, OH. 12pm – 6pm. 
Sponsor Code: 1591
Are you Ready to Further your Education?
Archways to Opportunities gives you all of the resources you need to begin or continue your college education! 
Archways To Opportunity
McDonald's and its independent franchisees are committed to helping employees further their education and achieve their dreams.
To help individuals who work at a company-owned or independently franchised restaurant, we created Archways to Opportunity, a comprehensive education strategy with multiple programs that give people an opportunity to grow and learn – no matter where they are on their journey.
How do I earn my High School Diploma?
You can graduate from high school by taking classes online – whenever and wherever it's convenient for you – through Career Online High School. And, you may be able to apply credits from high school courses you've already completed.
How do I choose an affordable path to college?
If you are ready to get started working toward your college degree, Archways to Opportunity® offers programs to help make your goals a reality – in a way that fits your lifestyle.
Our programs can help you explore educational opportunities while getting financial support to make your educational journey easier.
How do I figure out the right path for me?
Figuring out the next step in your education and career journey may feel like a lot. Bright Horizons EdAssist Solutions has Success Coaches who are available to help you identify your education needs, review your career goals and develop a plan for the future. Your coach will continue to support you throughout your experience to ensure that you successfully achieve your goals and complete your program.
How do I improve my English?
We want you to feel confident in all that you do. If you are bilingual, this includes being comfortable talking in English. Whether you are speaking to customers or staff, your voice should be heard. English Under the Arches® can help.
With the support of English Under the Arches, you can improve your English speaking, listening, reading and writing skills.
How do I earn my degree for free through CTU?
The Commitment Grant, along with maximizing Archways to Opportunity tuition assistance, covers 100% of eligible students' online tuition, including eBooks and student fees, at CTU helping you to pursue your educational goals without the need for student loans.
Eligible students may utilize the Commitment Grant towards any Associate or Bachelor's degree program offered at CTU.