Jamey Petry wins the Ray Kroc award putting her in the top 1% worldwide of McDonald's Management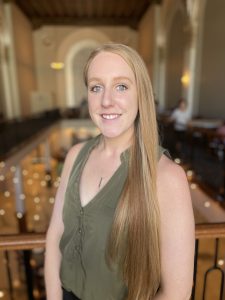 Jamey Petry and her team in Tipp City, Ohio celebrate their success as a fast and convenient McDonald's Restaurant, earning them the Ray Kroc award for 2022, a prestigious award given to only the top 1% of store management in the world. Jamey attributes the success to her team, stating that she could not have done this without them, "I like to work side by side with my team, get things done, and have fun while we're doing it!"
The Global Ray Kroc Awards celebrate the achievements of the Top 1% of McDonald's Restaurant General Managers worldwide, recognizing those who lead by example through their actions and achieve superior business results. These remarkable leaders consistently display a passion for the guest experience, a focus on profitably running an outstanding restaurant, and pride in leading a high-performing team.
Jamey has been with Scott Family McDonald's for over 11 years. Starting as a crew person in Fairborn and working her way up to management, she has managed the Tipp City location since 2017.
The work of a general manager is complex and Jamey enjoys that her duties are different every single day. She loves being up on her feet, interacting with guests and co-workers, and building relationships with the people she works with every single day. She trains her team to take on many different roles in her store, she says that focusing on this vast training knowledge and multitasking skills, gives her and her team the preparedness to take on any busy day.
Jamey also focuses on building relationships with her employees to increase retention. She delegates office duties to other managers giving them a learning experience and herself time to be present with her team. "People always ask me about how much time I set aside for people, and the quick answer is, I don't. What's most important for people in our role is really being on the floor and present, and when you do that you don't have to make time," says Jamey. "I lead by example, when you are present as much as possible, on the floor, helping them through a busy lunch rush you are setting an example and building relationships with the people around you at the same time."
Family is important to Jamey, she and her partner of 10 years, Zach, the manager of another Scott Family Restaurant in Huber Heights, care for 2-year-old twins Brayden and Carter. Spending time with her family is what Jamey enjoys doing most in her free time, she also enjoys football and volleyball. At Scott Family McDonald's your hours are flexible, so Jamey loves that her job allows her to take time off to experience those important life moments.
The Ray Kroc award is a big accomplishment for not only Jamey and her team but for the company and its community. The next time you drive thru Tipp City McDonald's, congratulate the team members for their success. Below are some testaments of current Tipp City employees about winning the Ray Kroc award and what it's like to work for SFM:
Shannon S. – "It's an awesome achievement! We have great bosses and the flexibility rocks."
Alex K. – "It feels great to work at a top 1% store!"
Stephan A. – "We make light of stressful situations, it's such a positive and encouraging environment here."
Mckenzie H. – "It's great working here, and the people I work with are amazing!"
Christina – "I am proud of the team and our accomplishments together."
Join the Scott Family Team by visiting our website at www.scottmcdonalds.com/apply or by visiting a location during open interview hours 9 AM to 6 PM 7 days a week.
Jamey Petry, Manager of Tipp City McDonald's, and her partner Zach Luckenbill, manager of Huber Heights Merily Way McDonald's.

Scott Family McDonald's has had the privilege to hold two Ray Kroc winners in their corporation's history, Jamey Petry and Freda Trittschuh.